You've Changed
Hard cover
Travel writing has been part of the human experience since we began to record our thoughts. The progression from Homer's Odyssey, to travel guides like Lonely Planet, includes a rich history of different techniques and styles each attempting to convey the experiences of the traveler to those interested.
You've Changed is the personal reflections of a woman from Beirut, Lebanon who boards a ship and sails around the world with a group of other university students enrolled in the Semester at Sea program. 

Semester at Sea (SAS) is a floating university allowing students to experience the world while traveling to ten different ports of call. Since the beginning of the program in the early 60's, SAS has transformed students by offering a unique comparative study abroad experience. The students, faculty, staff, crew and Life-Long Learners on each voyage come together as a community. This community experiences the voyage and all the highs and occasional lows of traveling around the world for 100 days.

Through her candid and honest observations and reactions we see the very personal impact the voyage has on the author Liliane.

In each country she visits, Liliane shares her first impressions. We can read the progress that occurs as she moves from being a tourist to that of a traveler. She sees and feels things differently in each port and through her eyes we gain a deeper appreciation of the complexity of the worlds cultures and the difficulty trying to understand what is happening and more importantly why.
Each of us travels in our own way. We see things and make unique meaning from our experiences. 

Extract from the preface 
Dan Garvey, Ph.D
President Emeritus
Prescott College

Also available in Soft cover
Liliane Angela Daou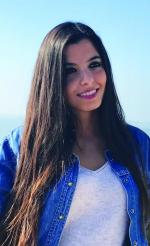 Liliane Angela Daou was born in West Virginia, USA, in 1994. She grew up in Lebanon, completed her Electrical Engineering Bachelor's degree at the American University of Beirut in 2017 and currently works as a Management Consultant in Dubai. 
Liliane has always been passionate about travelling and exploring the world and cultures around her. Before she started her career, she took some time off to travel and attend the Semester at Sea program. 
During that time, Liliane was taking university courses on a cruise ship sailing around 11 countries in 104 days. It was a once in a lifetime experience, that pushed her to publish her first book You've Changed.
Livres du même auteur